TM International, LLC offers high-quality wire rope blasting mats to protect your people and property at sites where blasting is to take place. While rubber tire mats are commonly used as blast protection, wire rope blasting mats are a much better product for a number of reasons.
REQUEST A QUOTE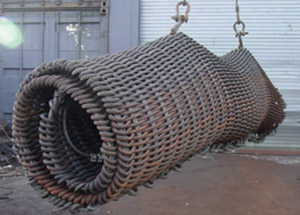 More Durable and Longer Lasting
Blasting in mining and construction is all about creating contained explosions. Some debris resulting from blasting is to be expected. However, when the force of the explosion projects rock fragments in varying directions that exceed the desired or expected distances from the blast face, you have flyrock.
Since the trajectory, size and speed of flyrock are difficult or impossible to anticipate, flyrock can create a tremendous danger for workers on your site. To fully understand flyrock, why it can be such a problem and how you can avoid flyrock-related injuries, it is first important to understand the causes of flyrock.
More Effective
The very nature of wire rope mats makes them extremely flexible. You can place them on just about any surface or terrain, and they will perform effectively.
More Convenient
Wire rope mats weight only 16.5 pounds per square foot, half as much as rubber mats. That means they are much easier to carry, ship and get to your site fast.
Additionally, because of the wire rope mat's flexibility, you can pack over a dozen in one container. The rigid rubber tire mat can only be shipped two or three to a container at a time.
More Cost Effective
As you can imagine, since they are lighter and you can get more in a container, you'll save considerably on shipping costs with wire rope mats. Also, you will get many more uses out of a wire rope mat, so you get much more value for your money.
Better for the Environment
Wire rope mats are completely recyclable, but your rubber tire mat will probably end up in a landfill somewhere eventually. This is also a cost issue, as you will have to pay for hazardous waste disposal with an old rubber tire mat.
Better From a Safety Standpoint
Wire rope mats are compliant with ISO 9001:2000 standards and are completely fireproof. They won't catch fire and emit toxic fumes like rubber tire mats.
Make the smart, eco-friendly, economical choice when it comes to your blast mat protection. Order wire rope mats from TM International, LLC today.
Share: