Blast mats are a critical safety component for all rock blasting and rock breaking methods across industries. They act as a heavy, resistant barrier to prevent fly rock from rock blasts from damaging workers, bystanders, property, equipment, and landscaping. Blast mat designs include carefully placed gaps that help stabilize each mat and let hazardous gases filter through. They are flexible, woven out of either steel wire or recycled rubber, and come in various sizes and weights to suit your project size and blasting site.
Learn more about rock blasting safety below, including tips for effectively using a blast mat at your project site.
What Is Rock Breaking?
Rock breaking is a method of breaking down or eliminating rocks, stones and similar debris at various project sites. Manual rock breaking may involve tools like wedges, specialized saws or heavy equipment, like hydraulic breakers. Large-scale projects often require rock blasting, a type of small, contained explosion that breaks rocks quickly.
Rock breaking is used across industries and applications, such as:
Urban construction projects.
Civil engineering sites, like airports or pipelines.
Residential construction sites.
Underground tunneling.
Quarrying and mining.
Underwater projects.
Road cutting, drilling, removing and relocation.
Landscape clearing.
Petrochemical facilities.
Military and government testing, construction or infrastructure sites.
There are multiple types of blasting — depending on the nature of the project and what stage of demolition you're in — and each rock blasting or breaking application has specific safety concerns you must follow. For example, urban blasting projects are usually close to buildings, businesses and homes, while mining sites require careful planning to avoid dangerous mine collapses. Landscape clearing and underwater projects must take care not to disrupt the natural environment and wildlife living there. Chemical plants risk releasing hazardous gases.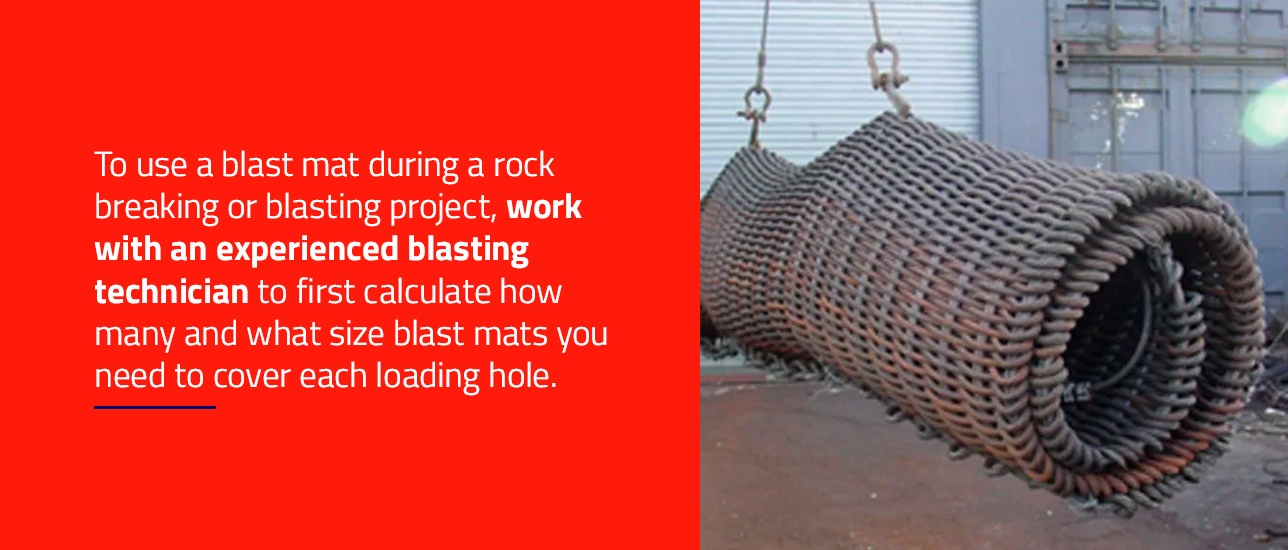 How to Use Blast Mats During Rock Breaking
Blast mats protect people and property by shielding against dangerous gases and flyrock — fragmented stone, dirt and debris projectiles that fly during contained explosions — that occur during rock blasts. You can also use them to absorb some impact from construction, highway or landscaping projects with sensitive or slippery terrain or preserve structural foundations in urban demolition projects.
Flyrock is caused by several factors, like:
Blasting too quickly.
Using a larger blast than the project requires.
Improperly planning the blast layout.
Experiencing unexpected deviations in the rock or surrounding structure.
To use a blast mat during a rock breaking or blasting project, work with an experienced blasting technician to first calculate how many and what size blast mats you need to cover each loading hole. Some challenging landscapes or sensitive projects may require a custom design or multiple overlaying blast mats per assignment. The blasting technician will also account for nearby and overhead structures, like mine walls, adjacent highways or standing constructions.
Once you've loaded each blast hole with all explosives, detonators and equipment, the blasting mat goes on top of the area to contain the fallout. Never drag mats or lay them against regulation, or you risk dangerous misfires. Always choose a reliable, fire-resistant blasting mat with integrated vent gaps to prevent airborne explosions.
Why Should Blast Mats Be Used During Controlled Explosions?
Regardless of how safe a worksite is or how much site planning goes into a project, even controlled explosions have many unknown variables beyond your control that could be life-threatening. Rock breaking and blasting are a common source of mining-related accidents. According to one report, blasting-related mining accidents are often 11 times more dangerous — capable of critically or fatally injuring workers — than other mining incidents.
The danger comes from the natural instability and unpredictable projectile paths that come with geological projects. Though experienced blasters are trained to understand safe blasting and breaking patterns, like hole dimensions and critical areas to avoid, rocks may fragment in unexpected ways. The force of a contained explosion sends all planned and unplanned fragments into the air. Without a blasting mat to control this debris, the explosion's strength and possible impact threaten worker safety.
Uncontrolled blasting debris can damage public or private properties, like nearby buildings and houses, resulting in costly repairs or possible lawsuits. Some blasting sites also threaten the environment — projectiles can damage trees, plants or corridors, possibly interfering with wildlife habitats or food sources.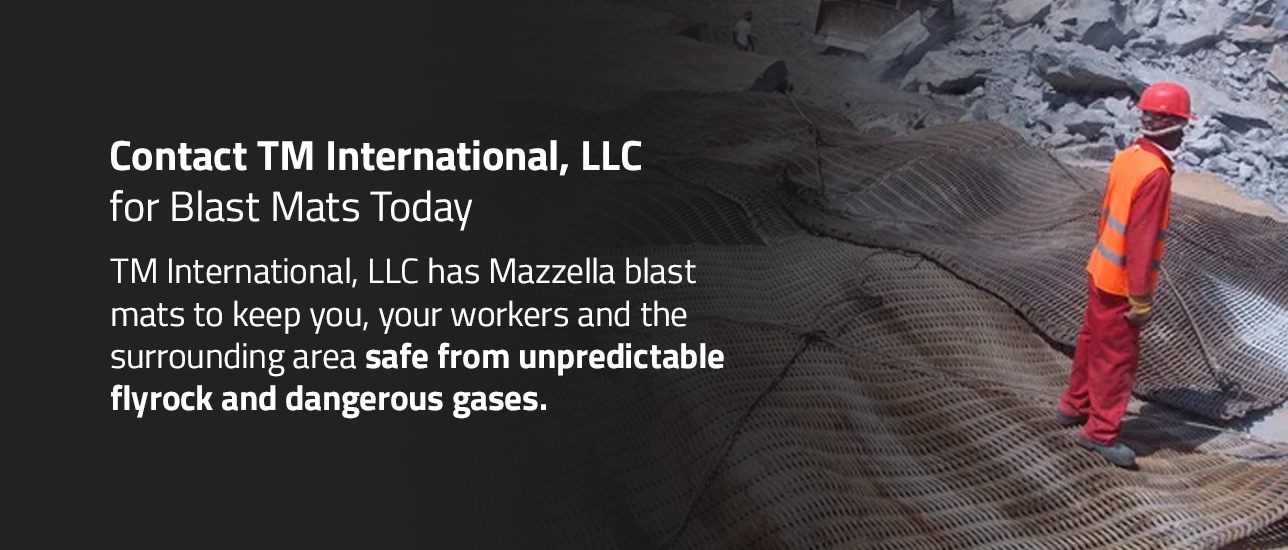 Contact TM International, LLC for Blast Mats Today
Worker and pedestrian safety are the most critical components of any blasting project, and controlling debris will also protect nearby homes, businesses, landscapes, and ecosystems. TM International, LLC has Mazzella blast mats to keep you, your workers and the surrounding area safe from unpredictable flyrock and dangerous gases.
Our blast mats are the ideal investment for your next rock blasting project because they are:
Fire-resistant: When you're working with blasting explosives, you must always plan for the possibility of a fire. Once-contained explosions can quickly spread without a fire-resistant barrier.Blast mats made with recycled rubber are not effective protection against fire. Instead, we create our blast mats from wire rope for an impenetrable, flame-resistant design.
Woven: Our woven mat design creates natural gaps to protect your employees from dangerous blasting chemicals and pressurized gases. This woven design also makes a stronger, more flexible blasting mat you can move and shape over all types of terrain — even challenging topographies, like abnormally shaped blasting sites and rocky or muddy conditions.
Lightweight: While durability and reliable protection are the two most important factors to look for in a blasting mat, you should also choose a design that is easy for you and your team to transport and handle around the site. Our blast mats are lightweight and easy to manage, so you can do your job quickly and easily remove the mats when blasting is finished.
Adaptable: Our mats are available in a range of stock sizes, including 10-by-15, 12-by-12 and 14-by-14 foot variations. You can also request custom sizing, which ranges from 4-by-6 feet to 14-by-16 feet. They pair with all types of electric and non-electric detonators.
Non-invasive: Blast mats do more than protect the surrounding environment from hazardous flyrock and fire — they should also keep the land safe from any blasting after-effects. Our Mazzella blast mats leave no trace behind, making them as minimally invasive as possible. This characteristic may also help you meet local and environmental blasting regulations.
Eco-friendly: Our blast mats are a valuable, cost-efficient and long-term investment. You can use them for multiple blasting projects without deterioration or change in efficacy. When you're finished using them, you can take them to a recycling facility to keep them out of landfills.
Contact a TM International, LLC representative today to learn more or request a custom quote for your blasting project.
Share: